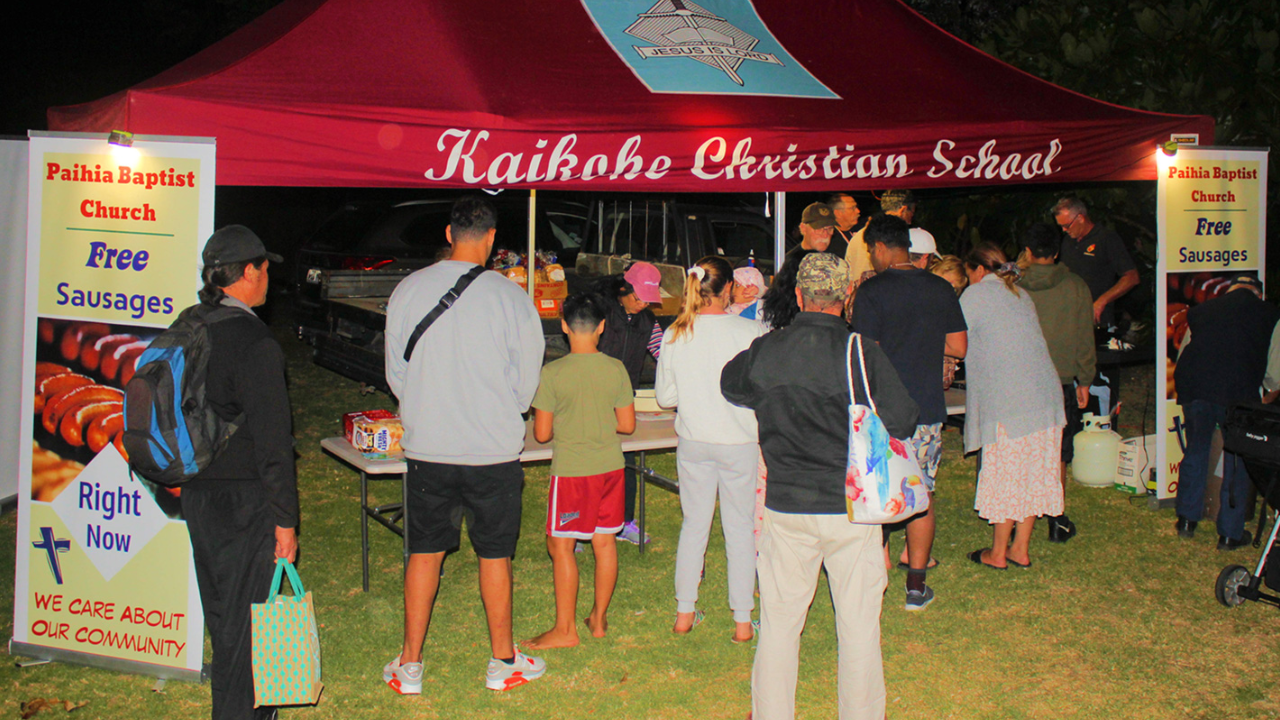 While some spent the last hours of 2020 winding down, Paihia Baptist Church volunteers were busy cooking 18kgs of onions and buttering 25 loaves of bread. It was all for the church's annual New Year's Eve community sausage sizzle.
The idea behind the event is threefold. Firstly, being a holiday hot spot, Paihia has had problems in the past with alcohol-fuelled unruliness on New Year's Eve. A little free food helps mitigate some of the effects of intoxication among revellers. Secondly, it lets the Paihia community know that the church genuinely cares about them. Finally, and most importantly, it enables the church to share the good news of God's love for them.
"We set up on the Village Green, in central Paihia," says Paihia Baptist's pastor, James Stead. "Kaikohe Christian School again lent us their gazebo. Three pull-up signs advertised who we are and that free sausages were available. And serviettes were stamped with the words 'Happy New Year' and 'Turn to Jesus, He cares!', along with the words of John 3:16 and our church logo."
The team started serving at 10pm, by which time there was a queue of young people waiting, and packed up at 1:00am. Initially crowds were thinner than usual. But just before midnight, things took a sudden turn.
"The numbers swelled as those who had been partying elsewhere flooded in to watch the midnight firework show launched from a barge moored between Russell and Paihia. After the spectacular display, the demand was greater than expected, and in 30 minutes we cooked and served 200 sausages!" says James.
In total the team served about 600 sausages with all the trimmings. Although crowd numbers were down, the demand for sausages was up and the last few people had to be turned away.
"Many found it difficult to believe that they were getting something for nothing, so we explained that we were doing it free because God cares about them and so do we," says James. "We set Gospel literature out on the tables and over 200 of these were taken. Some came back to take more to hand out to friends. We pray that they will produce a response—that people will turn to Jesus and find hope in these difficult times.
"The event was so successful that we are determined to keep it going as we believe it meets a need in our community—as well as being a lot of fun. We already have a list of people volunteering for next year's event. So, we will keep sizzling sausages for Jesus!"